Description
The journeys, hopes, dreams, and concerns of 29 new U.S. citizens come to life through vivid color portraits and personal stories.
Saying the word immigration has become an invitation to an argument. Perhaps that was always true. On the one hand, our history supplies countless examples of the sins and transgressions committed in our ceaseless struggle to say who has the right to live in the land of the free and the home of the brave. On the other hand, we call ourselves a nation of immigrants and take pride in the mythology of the melting pot.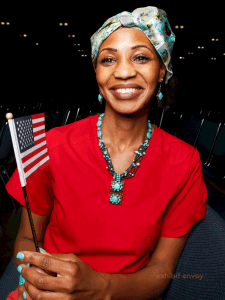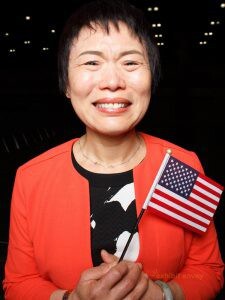 In the months following a bitter election that saw the definition of what it means to be an American called into question, we witnessed 20,000 people become naturalized U.S. Citizens. We asked how they came to this country [and] what the American Dream means to them.

Sam Comen and Michael Estrin
The Newest Americans encourages visitors to see the United States and the immigration process through the eyes of new citizens representing over 20 origin countries. All photos were taken and interviews conducted in the moments immediately prior to and following two naturalization ceremonies in February and March of 2017. The exhibition is fully translated into both English and Spanish. Learn more about the initial project, and view the photographs and accompanying narratives, here.
The Newest Americans, an exhibition from Sam Comen (photography) and Michael Estrin (reporting), is produced in partnership with The California Museum and traveled by Exhibit Envoy.
Specs
Audience:

Adults, High School Students

Rental Fee:

$2,250 + shipping for an 8-week booking

Size:

100 to 200 linear feet:

Languages:

English, Spanish

Security:

Installation Images:
Exhibit Components:
29 full-color portraits ranging in size from 14″ x 20″ to 36″ x 48″
First-person narratives from the citizens in English and Spanish (read them here ["Message to the President" not included])
Citizenship test and suggestions for other interactives
Guide for a high school project tie-in
Exhibition press kit with digital images
Suggested programming ideas
Schedule and Availability
April 3, 2018 – July 8, 2018

September 30, 2018 – December 9, 2018 (10 weeks)

January 13, 2019 – March 10, 2019

June 9, 2019 – August 4, 2019

October 27, 2019 – January 5, 2020

May 24, 2020 – September 27, 2020 (18 weeks)

October 11, 2020 – December 6, 2020

December 20, 2020 – February 21, 2021

Southwest Tech, Fennimore, WI

March 7, 2021 – May 2, 2021

May 16, 2021 – July 11, 2021

AVAILABLE

July 25, 2021 – September 19, 2021

AVAILABLE

October 3, 2021 – November 28, 2021

AVAILABLE

December 12, 2021 – February 6, 2022

AVAILABLE

February 20, 2022 – April 17, 2022

AVAILABLE

May 1, 2022 – September 4, 2022

September 18, 2022 – November 13, 2022

AVAILABLE

November 27, 2022 – January 15, 2023

AVAILABLE