Description
Banned & Recovered: Artists Intervention is a collective response by 37 artists to the conspicuous success of book challenges and bannings in U.S. schools and libraries and the real threats to the U.S. Constitution posed by the 2003 U.S. Patriot Act.
Artists created new works of art inspired by titles from the long list of banned and challenged books. The result is a spectacular collection of witty, whimsical, angry, and thought-provoking statements about the ramifications of censorship and the importance of free speech. Together, the works shed new light on problematic issues and engage visitors in a lively dialog about the power of art in the face of censorship.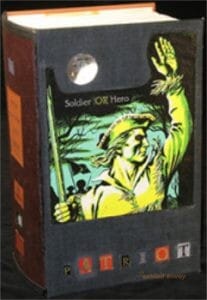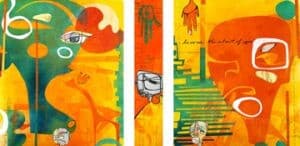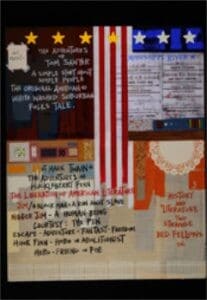 The exhibition is divided into four themes: Banning Books and the First Amendment at Crossfires; Books on Trial; Race, Gender and Justice; and Burning Books: the Extreme Ban. It includes original book art, mixed media, paintings, photographs, and multi-media pieces.
Banned & Recovered: Artists Intervention was generously funded by The James Irvine Foundation and inspired by the exhibition Banned & Recovered: Artists Respond to Censorship that was on display at the San Francisco Center for the Book and the African American Museum and Library in Oakland in 2008.
Specs
Audience:

Adults, Teens

Rental Fee:

RETIRED

Size:

1,500-2,000 square feet

Security:
Exhibit Components:
37 original artworks with labels
Introductory and theme text panels
Cell phone audio tour with artists and the curator
Interactive website
Exhibition catalog available from LuLu.com
Exhibition press kit with digital images
Schedule and Availability
| | |
| --- | --- |
| September 23, 2010 – November 6, 2010 | Humboldt State University Art Gallery, Arcata |
| January 10, 2011 – March 11, 2011 | UC Merced Kolligian Library, Merced |
| July 15, 2012 – October 6, 2012 | The National Steinbeck Center, Salinas in partnership with the Monterey County Library |