Chinese Pioneers: Power and Politics in Exclusion Era Photographs presents a visual history of the social, political, and judicial disenfranchisement of Chinese Californians — as well as moments of Chinese agency and resilience — in the decades before and after the 1882 Chinese Exclusion Act. The exhibition is drawn exclusively from the California Historical Society's collections and consists of 11 free-standing pop-up banners.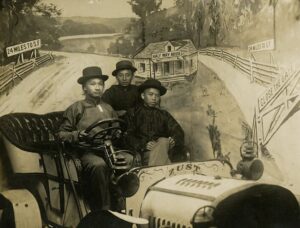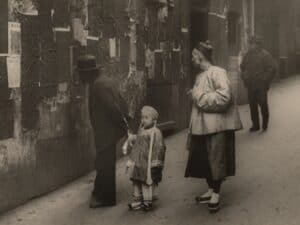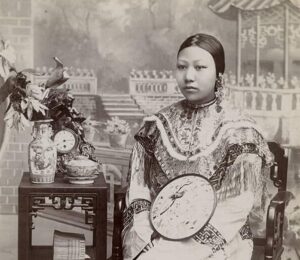 Significant numbers of Chinese people began to arrive in California during the Gold Rush, coinciding with growing national debates about inclusion and assimilation. The 1866 Civil Rights Bill and the Fourteenth Amendment extended the rights and privileges of citizenship to African Americans and some Native Americans, but the "Chinese question" persisted.
Anti-Chinese sentiment, fueled by fears that Chinese laborers were taking jobs away from white men, led to protests, violence, and vigilante expulsions up and down the West Coast. The 1882 Exclusion Act and the more stringent 1888 Scott Act banned Chinese laborers from immigrating; prohibited Chinese people from becoming citizens; and tightened restrictions on previous residents reentering the country.
In the United States during the Exclusion Era years, depictions of Chinese people ranged from deeply derogatory to highly exoticized. The Chinese Pioneers exhibition examines the visual record of how mainstream culture influenced, aligned with, and/or diverged from politics and state actions. Photography played a potent role in both Chinese people's interactions with the dominant culture and in the government's fledgling systems of registration, identification, and surveillance.
Exhibit Sections:
Introduction
Sinophobia and Exclusion
Studio vs. Street Photography
Photography and the Surveillance State
Life Goes On
Chinese Pioneers: Power and Politics in Exclusion Era Photographs was organized by the California Historical Society and tours through Exhibit Envoy thanks to the generosity of the Henry Mayo Newhall Foundation.
Specs
Audience:

General

Rental Fee:

$1,000 + shipping via FedEx for an 8-week booking

Size:

~36 linear feet; 11 freestanding banners @ 33" w x 80" h each

Languages:

English, Spanish (via a binder), Mandarin or Cantonese (TBD, via a binder)

Security:

Installation Images:
Exhibit Components:
11 free-standing, retractable, pop-up banners
Spanish and Chinese translated text in binders
Exhibition press kit with digital publicity images and template press release
Schedule and Availability
December 11, 2022 – February 5, 2023

February 19, 2023 – April 16, 2023

April 30, 2023 – June 25, 2023

July 9, 2023 – September 3, 2023

September 17, 2023 – November 12, 2023

November 26, 2023 – January 21, 2024

February 4, 2024 – March 31, 2024

April 14, 2024 – June 9, 2024

June 23, 2024 – August 18, 2024

AVAILABLE

September 1, 2024 – October 27, 2024

November 10, 2024 – January 5, 2025

AVAILABLE

January 26, 2025 – March 23, 2025

AVAILABLE

April 13, 2025 – June 8, 2025

AVAILABLE

June 29, 2025 – August 24, 2025

AVAILABLE

September 14, 2025 – November 9, 2025

AVAILABLE

November 30, 2025 – January 25, 2026

AVAILABLE
Ask us about dates in 2026 and beyond!