Description
Designed just for historic houses! Ready-to-install traveling exhibit Gadgets Galore! Transforming the American Household invites visitors to engage with history and explore your historic house through the lenses of gadgets and technology.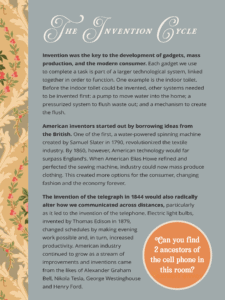 Gadgets are an integral part of our everyday lives, and, often, objects that we take for granted. Gadgets Galore! encourages visitors to take a closer look at the historic gadgets in your historic house, and to consider how the gadgets of yesteryear informed our modern technology. From light bulbs to coffee makers, and from Velcro to mp3s, your visitors will connect the past with the present and engage with history through the scavenger hunt-style Gadgets Galore!

The 14 easy-to-install text panels focus on the Victorian-era homes so prevalent in California. However, historic homes from other eras will be able to easily re-tool this exhibit to fit their interpreted time period as well! The panels are designed to help interpret the living room, dining room, kitchen, bedroom, laundry, bathroom, library, and carriage house/garage, but can be comfortably displayed in various locations within the house or grounds.
Exhibit Themes:
The invention cycle
The role of advertising in consumerism
Mass production and other innovations in manufacturing
The development of the modern consumer
How changes in technology lead to changes in lifestyle
Gadgets Galore! is a traveling exhibition for historic houses from Exhibit Envoy and Heather Farquhar. This exhibition is based on the initial iterations at the Hayward Area Historical Society and Los Altos History Museum.
Specs
Audience:

Families, General

Rental Fee:

$750 for 8 weeks + shipping via FedEx

Languages:

English

Security:
Exhibit Components:
17 text panels (13 @ 20″W x 28″H and 4 @ 18″W x 14″H) connected to objects and themes commonly found in the living room, dining room, kitchen, bedroom, laundry, bathroom, and library
Clear list of artifacts highlighted in the text panels to aid you in mining your own collection
Easy-to-customize docent tour
Suggestions for easy-to-implement, object-friendly interactives
Printable scavenger hunt page to accompany the exhibit
Social media templates and marketing materials
Schedule and Availability
February 28, 2021 – May 2, 2021

AVAILABLE

June 20, 2021 – August 15, 2021

August 29, 2021 – October 24, 2021

November 7, 2021 – January 2, 2022

AVAILABLE

January 16, 2022 – March 13, 2022

March 27, 2022 – May 22, 2022

June 5, 2022 – July 31, 2022

AVAILABLE

August 14, 2022 – October 9, 2022

AVAILABLE

October 23, 2022 – January 1, 2023 (10 weeks)
Contact us for dates beyond 2022.