Description
This exhibit presents California before the fateful discovery of gold in the American River through the frenzied rush to the gold fields overland and by sea. The experience of vigilante justice, life in the rowdy gold camps, Gold Rush era commerce and farming, and the shaping of California's future are all explored.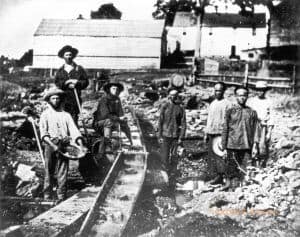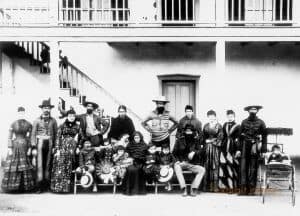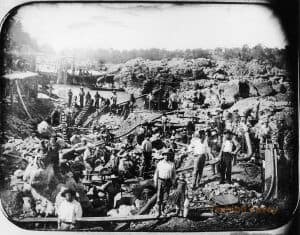 From staggering success to unmitigated disaster, Gold Fever! spotlights the remarkable stories of individual Californios, women, Native Americans, adventurers, and gold seekers who emigrated from all parts of the world during the tumultuous and colorful Gold Rush era.
Originally developed by the California Council for the Humanities in collaboration with the Oakland Museum of California.
Specs
Audience:

General, School Groups

Rental Fee:

$1,000 + shipping for an 8-week booking

Size:

200 linear feet

Security:

Installation Images:
Exhibit Components:
24 exhibition panels with photo-murals
Suitcase with hands-on artifacts and activities
School curriculum from the Oakland Museum
Exhibition manual
Press kit
Schedule and Availability
| | |
| --- | --- |
| October 15, 2009 – March 30, 2010 | Mission San Juan Capistrano, San Juan Capistrano |
| April 18, 2010 – August 1, 2010 | Mendocino County Museum, Willits |
| August 15, 2010 – October 10, 2010 | Bonita Museum & Cultural Center, Bonita |
| February 3, 2011 – May 29, 2011 | MUZEO, Anaheim |
| July 31, 2011 – April 22, 2012 | La Quinta Museum, La Quinta |
| May 6, 2012 – July 1, 2012 | Museum of the San Ramon Valley, Danville |
| September 29, 2012 – December 31, 2012 | Gateway Science Museum, Chico |
| January 12, 2013 – February 24, 2013 | Temecula Valley Museum, Temecula |
| March 1, 2013 – November 23, 2013 | Imperial Valley Desert Museum, Ocotillo |
| May 3, 2014 – June 28, 2014 | Dana Adobe Nipomo Amigos, Nipomo, CA |
| September 27, 2014 – January 25, 2015 | Western Science Center, Hemet |
| March 28, 2015 – May 24, 2015 | Monterey County Agricultural & Rural Life Museum, King City |
| November 7, 2015 – January 10, 2016 | Grace Hudson Museum and Sun House, Ukiah |
| March 13, 2016 – May 8, 2016 | Merced County Courthouse Museum, Merced |
| July 31, 2016 – January 1, 2017 | LA Maritime Museum, San Pedro |
| January 15, 2017 – March 12, 2017 | Sutter County Museum, Yuba City |
| September 15, 2019 – March 15, 2020 | San Francisco Historical Society, San Francisco |
| Flexible Booking Dates | Contact Us for potential dates. |