Description
What's the first thing you imagine when you hear the words "etiquette?" Do you envision members of Victorian high society bowing and curtsying to one another at a fancy ball? Do you think of someone using the incorrect fork to eat his or her appetizer at a formal dinner?
Knowing proper etiquette might seem like an old-fashioned and outdated idea in our more casual and busy society. Yet, there is etiquette to just about everything we do from walking down the street to sending an email. We follow both written and unwritten rules of etiquette everyday that show we have good manners; it's a sign of respect both for yourself and those around you.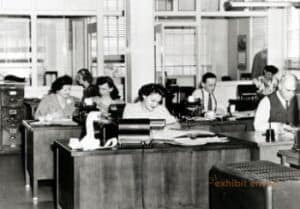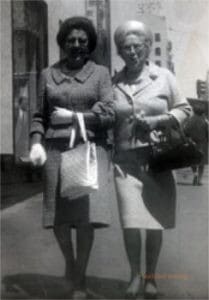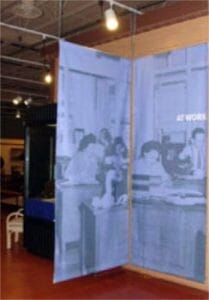 This exhibition takes an entertaining look at the etiquette of everyday life, comparing rules of the past with the present. While good manners never go out of style, the definition of what constitutes good manners changes over time and often depends on the situation, what is fashionable, and the people involved. The exhibit might even change your perception of what the word "etiquette" means today.
These good manners are explored through four areas of American life:
Table Manners
At Work
Out and About
Entertaining at Home
This panel exhibition creates an opportunity for you to reveal treasures from your own collection. Developed by the Hayward Area Historical Society.
Specs
Audience:

General

Rental Fee:

RETIRED

Size:

1,000 square feet

Security:
Exhibit Components:
5 Text panels, 5 Exhibit graphics
Etiquette quote labels
Suggested ways to augment the exhibition through artifacts and vignettes
Suggested simple interactives
Interpretive materials for school groups
Exhibition Manual and Press Kit
Schedule and Availability
| | |
| --- | --- |
| March 28, 2010 – November 8, 2010 | San Joaquin County Historical Society, Lodi |
| March 13, 2011 – July 17, 2011 | Forest Home Historic Park, San Ramon |
| October 9, 2011 – February 12, 2012 | Minnetrista, Muncie, Indiana |
| May 6, 2012 – July 1, 2012 | Museum on Main, Pleasanton |
| December 2, 2012 – January 27, 2013 | George C. Marshall Foundation, Lexington, VA |
| September 1, 2014 – October 27, 2014 | M.P. Baker Library, Panola College, Carthage, TX |
| May 27, 2015 – July 19, 2015 | Adkins-Johnson Farm, Gladstone, MO |