Description
Illuminating the hardships, joys, and lives of female pioneers, Her Side of the Story: Tales of California Pioneer Women highlights first-person stories from the women who traveled by land or sea to settle in California prior to statehood.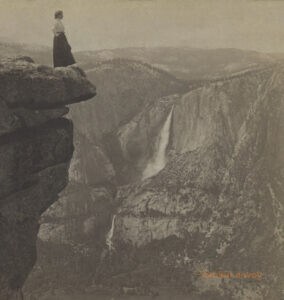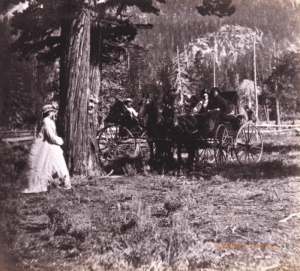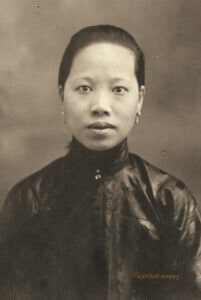 In 1900, The Association of Pioneer Women of California formed and collected the reminiscences of women who arrived in California before 1854 in a single ledger. This incredible document, filled with over 800 handwritten stories of California pioneer women and in the collection of The Society of California Pioneers, is the basis for this exhibition. Together, the ledger and exhibition create a more complete and balanced understanding of our shared history, by highlighting the voices of women who traveled to California.
The ledger, however, does not represent all women. As such, an important section of the exhibition is comprised of forty diverse portraits of unidentified women. These women represent the thousands of pioneers whose stories were never recorded; each one had a story to tell which is lost to time.
Her Side of the Story: Tales of California Pioneer Women is an exhibition from The Society of California Pioneers and tours through Exhibit Envoy.
Specs
Audience:

General; Students

Rental Fee:

$1,750 + shipping/8 weeks

Size:

Highly flexible; at least 150 linear ft. recommended

Languages:

English

Security:

Installation Images:
Exhibit Components:
30 first-person quote panels
Introduction and section panels providing context for quotes
18 maps, photographs, advertisements and other 2D reproductions mounted and ready for hanging
40 "Subject Unknown" portraits
A hands-on reproduction of the ACPW Ledger
Searchable, online ledger hosted by The Society of California Pioneers (search for your region or town!)
Audio tour highlighting the 30 quote panels
Curriculum guide compiled by The Society of California Pioneers
InDesign templates to produce your own quote panels and artifact labels
List of artifacts referenced in the text for suggested pairing
Exhibition press kit and programming/resource guide
Schedule and Availability
October 11, 2018 – September 1, 2019

March 5, 2020 – January 3, 2021

November 21, 2021 – January 16, 2022

January 30, 2022 – May 22, 2022 (16 weeks)

June 5, 2022 – July 31, 2022

August 14, 2022 – October 9, 2022

AVAILABLE

October 23, 2022 – January 1, 2023 (10 weeks)

January 15, 2023 – March 12, 2023

AVAILABLE

March 26, 2023 – May 21, 2023

AVAILABLE

June 4, 2023 – July 30, 2023

AVAILABLE

August 13, 2023 – October 8, 2023

October 22, 2023 – December 17, 2023

AVAILABLE
This show will travel beyond 2023! Contact us to discuss booking dates for 2024+.