Description
Stories and photographs of migrant farm workers give visitors a reality check on the food they eat and the people who harvest it.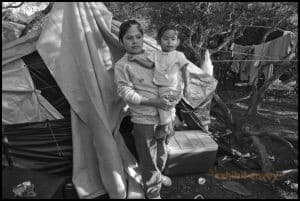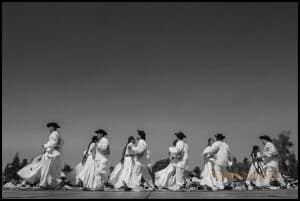 Traveling with migrant workers as the fruit and harvest season moves from the Mexican border north to Washington state, In the Fields of the North / En los campos del norte reveals the stories of contemporary migrant farm workers on the West Coast. The exhibition attempts to shed light on some basic questions: How much do we know about the lives of the people who feed us? Where do they live? How does it feel to do some of the hardest repetitive labor imaginable? And, what answers do farm workers themselves have to end their poverty and endless migration?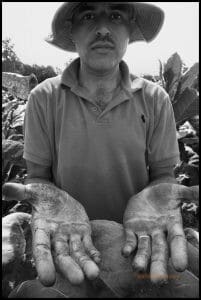 In the Fields of the North is a series of evocative photographs accompanied by moving oral narratives – fully translated into both English and Spanish – that take visitors into the contemporary world of migrant farm workers. Photographer and journalist David Bacon has spent over three decades documenting the lives of migrant workers and organizing with United Farm Workers, and this documentation has been used by FIOB and CRLA to advocate for the rights of migrants and farm workers. His book of the same name will be released by UC Press in May of 2017.
In the Fields of the North / En los campos del norte features the works of David Bacon, is produced in partnership with the California Rural Legal Assistance and the Binational Front of Indigenous Organizations, and is traveled by Exhibit Envoy.
Specs
Audience:

General

Rental Fee:

$2,500 + shipping for an 8-week booking

Size:

200-250 linear feet

Languages:

English, Spanish

Security:

Installation Images:
Exhibit Components:
(56) 30″ x 24″ black and white photographs and accompanying detailed narrative captions in both English and Spanish
(6) interpretive text panels in both English and Spanish
United Farm Workers video from the 1970s in Spanish, with subtitles in English
Gallery copy of UC Press' In the Fields of the North / En los campos del norte
Exhibition press kit with digital images
Suggested programming ideas
Schedule and Availability
| | |
| --- | --- |
| September 1, 2017 – September 30, 2017 | University of Nebraska, Omaha |
| October 15, 2017 – June 30, 2018 (8 months) | History San Jose, San Jose |
| August 5, 2018 – October 28, 2018 (12 weeks) | Museum on Main, Pleasanton |
| November 11, 2018 – December 30, 2018 | AVAILABLE |
| January 13, 2019 – March 10, 2019 | Vallejo Naval and Historical Museum, Vallejo |
| March 31, 2019 – May 26, 2019 | San Leandro Library, San Leandro |
| June 16, 2019 – August 18, 2019 | Museum of Ventura County Agricultural Museum, Santa Paula |
| September 1, 2019 – December 22, 2019 (16 weeks) | Hi-Desert Nature Museum, Yucca Valley |
| January 5, 2020 – March 1, 2020 | Sutter County Museum, Yuba City |
| March 15, 2020 – July 19, 2020 (extended due to COVID-19) | Los Altos History Museum, Los Altos |
| August 2, 2020 – September 27, 2020 | AVAILABLE |
| October 11, 2020 – December 6, 2020 | AVAILABLE |
| December 20, 2020 – February 7, 2021 (10 weeks) | AVAILABLE |
| March 21, 2021 – May 23, 2021 (9 weeks) | Carnegie Arts Center, Turlock |
| June 6, 2021 – August 1, 2021 | AVAILABLE |
| August 15, 2021 – October 10, 2021 | AVAILABLE |
| October 24, 2021 – December 19, 2021 | Kansas City, KS Public Library, Kansas City, KS |