Description
Journey Stories are tales of how we and our ancestors came to America – are a central element of our personal heritage. From Native Americans to new American citizens and regardless of our ethnic or racial background, everyone has a story to tell. Our history is filled with stories of people leaving behind everything – families and possessions – to reach a new life in another state, across the continent, or even across an ocean.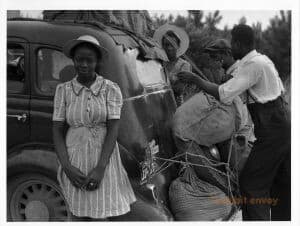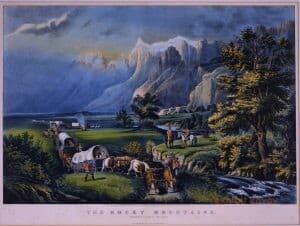 The reasons behind those decisions are myriad. Many chose to move, searching for something better in a new land. Others had no choice, like enslaved Africans captured and relocated to a strange land and bravely asserting their own cultures, or like Native Americans already here, who were often pushed aside by newcomers. Our transportation history is more than trains, boats, buses, cars, wagons, and trucks. The development of transportation technology was largely inspired by the human drive for freedom.
Journey Stories is part of Museum on Main Street, a collaboration between the Smithsonian Institution and State Humanities Councils nationwide. Support for Museum on Main Street has been provided by the United States Congress.
Specs
Audience:

General

Rental Fee:

RETIRED

Size:

700 square feet

Security:
Exhibit Components:
Seven sections with free-standing kiosks
Lesson Plans, Resource List, & Scavenger Hunt
Press Materials
Docent Handbook
Installation and Programming Workshop
Storytelling Kit
"Antiques Railroad Roadshow" by CA State Railroad Museum staff helps assess your collections and use the material to augment Journey Stories
Schedule and Availability
| | |
| --- | --- |
| June 21, 2014 – September 28, 2014 | California State Railroad Museum, Sacramento |
| October 5, 2014 – November 16, 2014 | Heritage Museum of Orange County, Santa Ana |
| November 23, 2014 – January 4, 2015 | La Quinta Museum, La Quinta |
| January 11, 2015 – March 8, 2015 | Museum on Main, Pleasanton |
| March 15, 2015 – April 26, 2015 | Mt. Shasta Sisson Museum, Mount Shasta |
| May 3, 2015 – June 26, 2015 | Community Memorial Museum, Yuba City |
| June 24, 2015 – August 16, 2015 | Gateway Science Museum |
| August 30, 2015 -October 11, 2015 | Museum of San Ramon Valley, Danville |