Description
Inspiring Public Awareness and Action through Art
Jasmine Swope's black-and-white photography deftly captures the beautiful, otherworldly essence of California's marine parks and our 1,100 mile long coastline.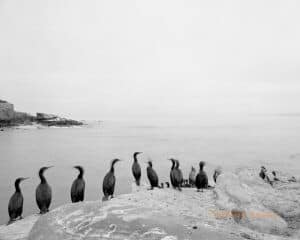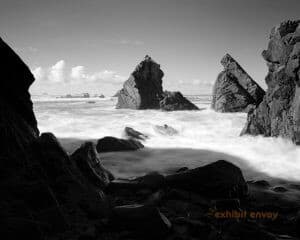 California made history with the creation of the nation's first statewide system of ocean parks − a network of 124 Marine Protected Areas (MPAs) stretching from Oregon to the Mexico border. Like national parks on land, MPAs are magnificent in beauty and wildness while providing protection for wildlife, solutions to climate change, and recreational resources for all.
Soon after the system was established, LA-based photographer Jasmine Swope set out to capture the essence of the marine parks. Her quest took her up and down California's long coastline. The result is "Our Ocean's Edge," a photographic documentary project that celebrates these fragile seascapes, from Southern to Northern California, while increasing awareness about their natural benefits and promoting ecological conservation.
Nazareli Press recently published Swope's photos and Dwight Holing's accompanying prose as a book of the same name. SF-based author Holing contributes narrative interpretations of our extraordinary coastline to this exhibition as well. Learn more about the project here. The tour runs through May 2021.
Swope's photographs have the soft look of richly worked, large-scale graphite drawings. In addition to her chosen printing technique, it is achieved through lengthy exposures that blur contours, enhance atmospherics and blend the motions of waves and birds into gentle near-abstractions. One result is to recast familiar sights, recorded in millions of snapshots of tourist scenery, into something alien and almost extraterrestrial…[Swope's] photographs deftly evoke the presence of more than the eye can see.

Christopher Knight of the "Los Angeles Times"
Specs
Audience:

Adults, Teens

Rental Fee:

$2,000 + shipping for an 8-week booking

Size:

100 linear feet

Security:

Installation Images:
Exhibit Components:
21 framed photographic prints (two measuring 23"x58"; two measuring 36"x43"; two measuring 30″x36″; and fifteen measuring 20"x24")
Accompanying labels with original narrative interpretations by author Dwight Holing
6 large text panels, including information on California Marine Parks, a stylized map of the coastline, an artist's statement, introduction to the "Our Ocean's Edge" project, and a call to action to protect marine parks
Printed gallery/resource guide
A gallery copy of "Our Ocean's Edge" from Nazraeli Press
Programming and educational resources
Exhibition press kit with digital images
Social media posts and templates
Schedule and Availability
January 29, 2017 – May 7, 2017 (5 months)

September 24, 2017 – January 7, 2018 (15 weeks)

January 21, 2018 – June 3, 2018 (20 weeks)

June 17, 2018 – October 21,  2018 (18 weeks)

May 10, 2020 – July 5, 2020

AVAILABLE

July 19, 2020 – September 13, 2020

AVAILABLE

October 11, 2020 – January 10, 2021

January 24, 2021 – May 16, 2021
Tour ends in May 2021.