Description
The Past Tents: The Way We Camped exhibition explores camping in California from post-Gold Rush to the mid-1900s. Early camping was an enterprise of independence, simplicity, and conviviality. It offered a change of pace, splendor of scenery, and an opportunity to be close to nature and escape the trappings of society for a time. Despite the toil and the lack of modern gear, gadgets and groceries, campers eagerly packed their duffel bags with cameras and diaries and took to the hills.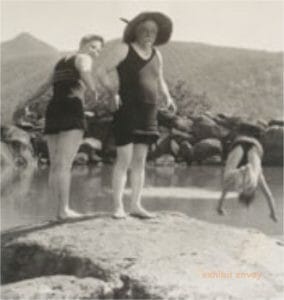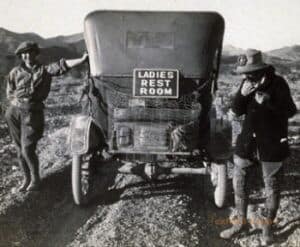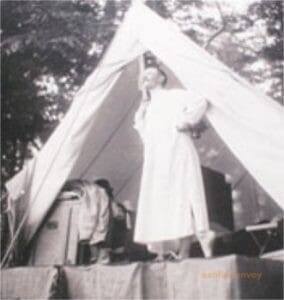 Past Tents is divided into three themes: Round the Campground, Hitting the Trail, and Open Roads, Open Fires. Through photographs, journal entries, and advertisements, Past Tents examines auto camping, camp food, gear, and pastimes, and tips for successful camp trips.
The Past Tents: The Way We Camped exhibition was produced by The Bancroft Library, University of California, Berkeley and California Historical Society and based on the book written by Susan Snyder and co-published by Heyday Books and The Bancroft Library.
Specs
Audience:

General

Rental Fee:

RETIRED

Size:

1500 – 2000 square feet

Security:
Exhibit Components:
Over 50 reprinted photographs from the collections of The Bancroft Library, University of California, Berkeley and the California Historical Society
Two canvas tents
Hands-on stereo viewer with stereograph facsimiles, and photo album
Text panels and labels
Guide By Cell audio tour
Exhibition press kit with digital images
Schedule and Availability
| | |
| --- | --- |
| September 21, 2008 – November 16, 2008 | Hi-Desert Nature Museum, Yucca Valley |
| November 30, 2008 – February 23, 2009 | Eastern California Museum, Independence |
| April 12, 2009 – June 7, 2009 | Old Courthouse Museum, Santa Ana |
| June 21, 2009 – August 16, 2009 | Bonita Museum & Cultural Center, Bonita |
| August 30, 2009 – January 3, 2010 | Sacramento History Museum, Sacramento |
| January 17, 2010 – March 14, 2010 | Community Memorial Museum, Yuba City |
| June 6, 2010 – August 1, 2010 | Museum of History & Art, Ontario |
| August 15, 2010 – December 19, 2010 | Mendocino County Museum, Willits |
| March 13, 2011 – May 8, 2011 | Merced County Courthouse Museum, Merced |
| May 22, 2011 – August 27, 2011 | Hayward Area Historical Museum, Hayward |
| September 10, 2011 – January 1, 2012 | Gateway Science Museum, Chico |