Description
…If you are unacquainted with the California Indian world, shed all your preconceived notions and give yourself over to a new experience."
She Sang Me A Good Luck Song: The California Indian Photographs of Dugan Aguilar is an exhibition revealing the richness and vibrancy of Native California cultures, featuring the works of Dugan Aguilar (Mountain Maidu/Pit River/Walker River Paiute). Aguilar, a well-known photographer of Native life, spoke his heart through his photography.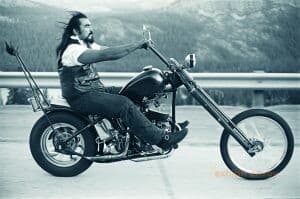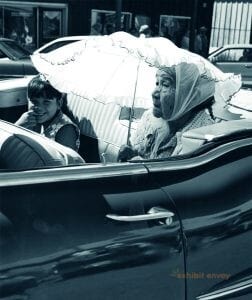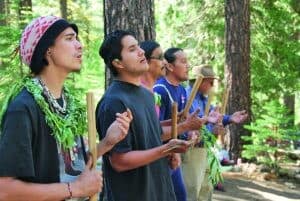 Aguilar's photos defy the romanticized and melodramatic images by which Native people are often depicted. Ranging from portraits of military veterans, basket makers, and dancers to meditative landscapes, Aguilar's work documented—and contributes to—the perseverance and renewal of Native California's living, vibrant cultures.
The exhibition is divided into the following sections:
From the Heart of California Native Existence
Ancestral Design with Nature as the Medium
In Song and Dance, We Embody the Dreams of Our Ancestors
Dugan Aguilar, a documentary photographer, documented California Native people and cultures for over 40 years and exhibited his work throughout the United States and Europe. He was staff photographer for the California Indian Basketweavers Association and California Indian Storytellers Association and contributed photographs for the book Deeper Than Gold:A Guide to Indian Life in the Sierra Foothills by Brian Bibby.He resided in Northern California before his passing in 2018.
This exhibition is supported by Heyday Books and the Native Cultures Fund of the Humboldt Area Foundation and curated by Theresa Harlan (Kewa Pueblo/Jemez Pueblo).
Dugan's photography embodies the ancient spirits of giving and sharing: it's visual poetry that resonates through time with the land and the people gently, yet assertively…Beautiful and insightful photographic storytelling for all people of the world.

Larry McNeil, Tlingit photographer and scholar, professor of photography, Boise State University.
Specs
Audience:

Adults, Teens

Rental Fee:

$1,800 + shipping for an 8-week booking

Size:

100 linear feet

Security:

Installation Images:
Exhibit Components:
28 framed photographs
1 introductory panel, 3 section panels, 1 artist bio panel, 1 artist interview panel and 1 "words of praise" panel
Exhibition press kit with digital images
She Sang Me A Good Luck Song, book published by Heyday and edited by Theresa Harlan
Schedule and Availability
July 18, 2015 – September 12, 2015

October 11, 2015 – December 6, 2015

May 1, 2016 – July 31, 2016 (13 weeks)

April 2, 2017 – July 30, 2017 (18 weeks)

May 13, 2018 – July 8, 2018

Dana Adobe Cultural Center, Nipomo

September 16, 2018 – December 2, 2018 (11 weeks)

December 30, 2018 – March 10, 2019 (10 weeks)

October 17, 2021 – December 19, 2021 (9 weeks)

June 5, 2022 – July 31, 2022

AVAILABLE

January 22, 2023 – March 19, 2023

AVAILABLE

October 9, 2022 – December 4, 2023

April 2, 2023 – May 28, 2023

June 11, 2023 – August 6, 2023

AVAILABLE

August 20, 2023 – October 15, 2023

AVAILABLE
Don't miss out on booking this amazing exhibit; without further bookings, it will retire!