Description
Through stunning color "portraits" of specimens, scientifically-accurate text panels, and surprising stories highlighting Indigenous peoples' and women's connections to seaweed, The Curious World of Seaweed provides a new look at marine flora.
Seaweeds have been used by the Indigenous peoples of California and the Pacific Northwest for thousands of years. European explorers plucked specimens from our rocky shores during exploratory expeditions. In the late 1800s, women living in Pacific Grove, CA, sent fresh specimens collected around the Monterey Peninsula to colleagues at UC Berkeley. And, today, seaweed is receiving major attention as kelp forests rapidly disappear from our coastline. From nori to giant kelp, from bull kelp to surfgrass and eelgrass, seaweed holds many such stories for visitors to discover through traveling exhibition The Curious World of Seaweed.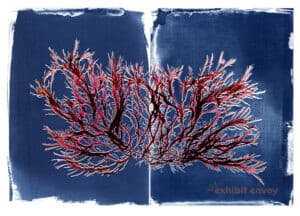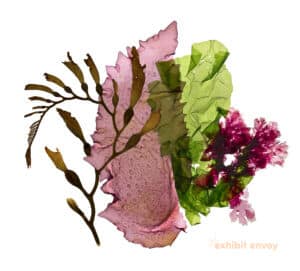 Seaweeds have three requirements for survival: something to hold onto, sunlight to provide energy, and nutrients to fuel growth. The thin section of ocean from the intertidal zone to about three hundred feet deep is where they find these three elements for success. This is a minuscule sliver of ocean area, less than two percent of the entire sea floor, and yet it is a zone of incomparable richness, where seaweeds, or marine algae, are the supreme eco-engineers. They oxygenate the waters, create three-dimensional habitat for countless organisms, and form the base of a food chain that keeps our planet unique in the universe as we know it — opulently rich in life.
The Curious World of Seaweed features the works and research of Josie Iselin, a photographer, author, and designer of many books. Her newest book, The Curious World of Seaweed, features visually rich narratives of our iconic West Coast seaweeds and kelps. It was released by Heyday Books in August 2019 and has been shortlisted for the Northern California Book Award and the the Alice Award, recognizing illustrated books. Iselin's writing and art focusing on seaweed, kelp and sea otter puts her on the forefront of ocean activism, presenting and working with scientists and environmental groups working to preserve the kelp forests of our Pacific Coast. She holds a BA in Visual and Environmental Studies from Harvard and an MFA from San Francisco State University. She currently teaches in the School of Design at SFSU.
"Who knew seaweed portraiture could probe the deepest mysteries of existence? … One wonder is that seaweed performs such a vital role in the ecosystem, literally helping power life on Earth. Another wonder is its shape-shifting colors and crazy symmetries, which Iselin's singular photography pops to life. Her text puts seaweed in a historical framework full of surprising stories. The result is an adventure through art, science, and pure pleasure." – Mary Ellen Hannibal, author of Citizen Scientist
The Curious World of Seaweed is a traveling exhibition from author and artist Josie Iselin in partnership with Exhibit Envoy. The exhibit is based on the book of the same name by Iselin (Heyday Books).
Specs
Audience:

High School Students, General

Rental Fee:

$2,750 for 8 weeks + shipping

Size:

Tentative: 150-200 linear ft.

Languages:

English

Security:

Installation Images:
Exhibit Components:
Exploration of 10 types of Pacific Coast seaweeds
20 framed and aluminum-mounted artworks of Pacific Coast seaweeds, all derived from actual scans of seaweed
5 flowing, largescale banners to simulate seaweed on the ocean floor
Scientific panels exploring various kinds of seaweed
Interpretive text panels highlighting pioneers in the study of seaweed, many of whom were women and whose stories have been overlooked
Gallery copy of "The Curious World of Seaweed"
Press kit, programming suggestions, and topical resource listings
Short video about the project
Easy tie-ins for your gift shop
Schedule and Availability
January 29, 2023 – April 30, 2023

May 21, 2023 – October 1, 2023

October 15, 2023 – December 24, 2023

January 7, 2024 – March 3, 2024

March 17, 2024 – May 12, 2024

AVAILABLE

May 26, 2024 – July 21, 2024

AVAILABLE

September 22, 2024 – January 19, 2025
Contact us for dates in 2025 and beyond!