Description
Starting during the Gold Rush and continuing through today, Black Californians have been part and parcel of rural areas. In this free-standing banner exhibit, little-known stories of African American farmers, ranchers, and rural residents challenge myths about California history.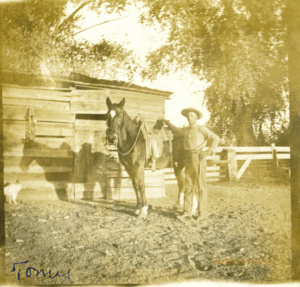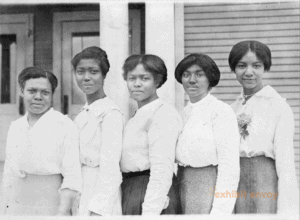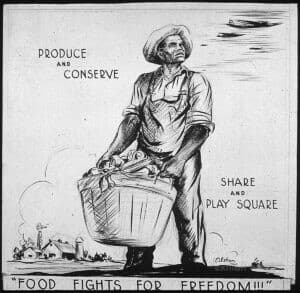 While it is widely recognized that many Black people who migrated to California moved into booming cities, African Americans are not strangers to rural California. Rural Black residents opened schools, worked the land, and exercised vigilance about the equal rights of citizens. Over successive migrations in the 19th- and 20th-centuries, generations settled in agricultural and rural areas from as far north as Siskiyou County, to the Central Valley, to the Imperial Valley in the South.
Exhibit Themes:
Farmers & Ranchers: Here from the Start
Working the Land
Independent Settlements
Into the Modern Age
We Are Not Strangers Here is a collaboration between the Cal Ag Roots Project at the California Institute for Rural Studies; Susan Anderson of the California African American Museum; the California Historical Society; Exhibit Envoy; and Dr. Caroline Collins from UC San Diego. This project was made possible with support from California Humanities, a non-profit partner of the National Endowment for the Humanities, and the 11th Hour Project at the Schmidt Family Foundation.
Specs
Audience:

General

Rental Fee:

$1,000 + shipping

Size:

60 linear ft.

Languages:

English, Spanish via PDF

Security:

Installation Images:
Exhibit Components:
7 colorful banners each measuring 5'H x 7'W and installed using free-standing banner stands
Cell phone audio tour featuring the voices of scholars and descendants of rural Black Californians
Multiple podcasts featuring additional stories, produced by Cal Ag Roots
PDF with Spanish translation of the full exhibition
Programming suggestions and resource list
Exhibition press kit with digital images
Schedule and Availability
February 14, 2021 – May 16, 2021

May 30, 2021 – August 1, 2021

August 15, 2021 – October 10, 2021

San Luis Obispo Coast District of California State Parks

October 31, 2021 – December 26, 2021

January 9, 2022 – August 14, 2022

August 28, 2022 – October 23, 2022

November 13, 2022 – January 8, 2023

January 29, 2023 – April 2, 2023

April 23, 2023 – June 11, 2023 (7 weeks)

AVAILABLE

July 2, 2023 – November 26, 2023

December 31, 2023 – May 12, 2024

June 2, 2024 – July 28, 2024

AVAILABLE

August 18, 2024 – October 13, 2024

AVAILABLE

November 3, 2024 – January 5, 2024 (9 weeks)

AVAILABLE

January 26, 2025 – March 23, 2025

AVAILABLE
This show will travel beyond 2024! Contact us to discuss booking dates for 2025+.