Description
CALIFORNIA! Expansive, beautiful, diverse—on the cutting edge of a continent; of transition, technology, expression and innovation. Here since 1850, dynamic, pioneering women religious have responded to unparalleled challenges on the edge of possibility.
The Women & Spirit: Catholic Sisters in California exhibit features the amazing contributions Sisters have made in developing California's church and society. The exhibit reflects the work of groups of strong women who forcefully placed their stamp on California life, and how the communities to which they belonged provided women with an outlet for grace, beauty, intellect and leadership.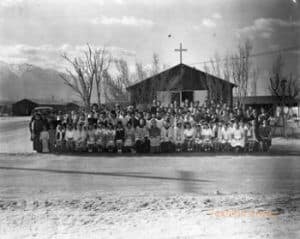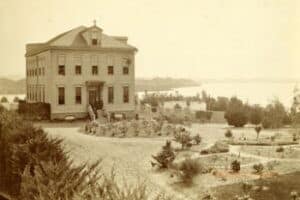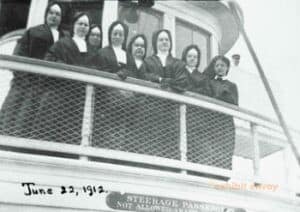 Their story begins during the state's chaotic founding years in the wake of the Gold Rush with Sisters providing social stability by creating a "safety net"—childcare centers, hospitals, schools, orphanages, homes for the elderly and working girls, and countless other charity institutions.
These women did not settle for salving social wounds; they worked to transform the source of these ills by actively participating in the struggle for social justice. Today, their work continues with widespread partnerships and collaborations.
The Sisters' work with the poor and marginalized did not darken their view, but deepened their vision of the beauty of the world. Among other outlets, the Sisters responded by producing works of art, music and architecture.
The exhibit is divided five themes:
Collaboration and Leading the Way
Creating the Safety Net
On Frontier's Edge
California Expressions: Art & Beauty
Programming & Suggested Artifacts list
Immigrant Church, Immigrant Sisters
Specs
Audience:

Adults, Teens

Rental Fee:

$500 Religious-affiliated organizations; Libraries; K-12 schools $1,500 Museums; Universities + shipping for an 4-to-12-week booking

Size:

100 linear feet

Security:
The exhibit features photographs, text panels, and audio-visuals and can easily be augmented with various collections and artifacts. A list of suggested artifacts is available. This exhibit features:
35 photo & text panels on sintra
Spanish translations
How the Sisters Tamed the West video
Daughters of Charity Fall of Saigon Story video
Programming & Suggested Artifacts list
Publicity Materials
Education Materials
Schedule and Availability
| | |
| --- | --- |
| September 2013 – January 2014 | Available – Flexible Dates |
| February 2014 – March 2014 | Temecula Valley Museum, Temecula, C |
| April 2014 – July 2015 | Available – Flexible Dates |
| August 3, 2015 – October 13, 2015 | Museum on Main, Pleasanton, CA |
| October 2015 – December 2015 | Available – Flexible Dates |