Description
Explore albatross biology and their conservation with colorful art and engaging, informative text.
Off the California coast, albatrosses soar effortlessly over the churning sea and through storms. These ancient creatures have been misunderstood by humans throughout history, blamed for bad weather on ships, ridiculed for their clumsy gait on land. But what is life really like for an albatross? Family-friendly exhibit Albatross: Life on the Wind and Sea sweeps you into the world of this mysterious seabird.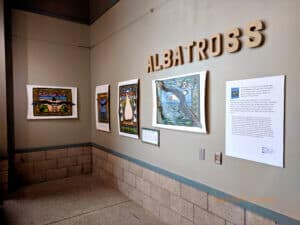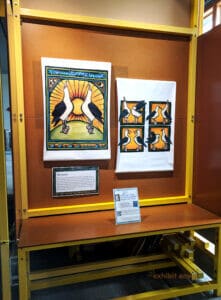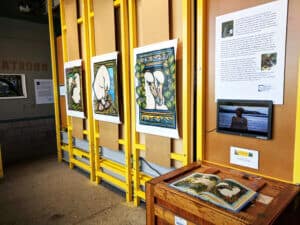 Albatrosses spend 95% of their lives over the open ocean, but they need to be on land to nest. In this exhibit, Hawaii/California artist and author Caren Loebel-Fried tells the story of a nesting Laysan Albatross – one of the three albatross species found along the northern Pacific Coast. Loebel-Fried is one of the lucky few who has spent multiple weeks on Midway Atoll over the years, counting nesting albatrosses and researching for art she was commissioned to create for the US Fish and Wildlife Service. There, she fell in love with albatrosses, and hopes their story will bring people, especially children, closer to the natural world and want to help care for it.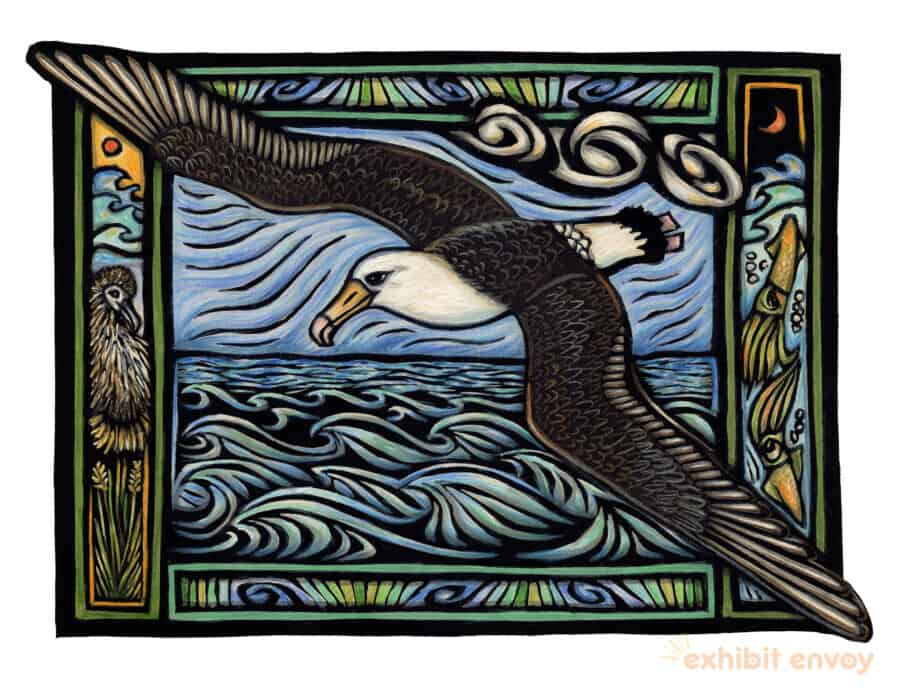 Fully researched and scientifically accurate, this exhibit explores albatross biology and their conservation, with engaging, informative text and colorful, visually stunning art images.
Albatross: Life on the Wind and Sea is a traveling exhibition from the Seymour Marine Discovery Center, Caren Loebel-Fried, and Exhibit Envoy, and is based on the book A Perfect Day for an Albatross.
This exhibit is also available as an online exhibit! Book the online exhibit as a stand-alone experience, or pair it with the physical exhibit when you host. Visit our online exhibits page to learn more.
Specs
Audience:

Families, Grades Pre-K through 5

Rental Fee:

$875 + shipping via FedEx for an 8-week booking

Size:

50-70 linear ft.

Security:

Installation Images:
Exhibit Components:
12 canvas banners on wooden dowels, each 24" x 36"
Informational AND prose text panels designed for viewers of all ages, plus an Intro and Artist Statement
A Perfect Day for an Albatross book for display, published by Cornell Lab Publishing Group
A 3 minute introductory and behind-the-scenes video with the artist/author
A video demonstration of the artist's block printing technique
A video of highlights from the albatross "Nest Cam" on Kauai (and a link to the live nest camera) from Cornell Lab of Ornithology
Teacher guide and activities, created by Cornell Lab of Ornithology
Printable B&W coloring sheets from the book art
Printable scavenger hunt combining the exhibit's art and facts about albatrosses
3 puzzles featuring artwork from the exhibit
3 stamps of artwork in the exhibit for visitors to create their own prints in-gallery
Also available, but not included in the exhibit: books, fine art prints, puzzles, and cards for sale through gift shops
Schedule and Availability
April 29, 2018 – November 22, 2018

September 8, 2019 – February 9, 2020 (22 weeks)

March 1, 2020 – May 3, 2020 (Rescheduled)

February 28, 2021 – May 2, 2021

September 4, 2022 – October 30, 2022

AVAILABLE

November 20, 2022 – January 15, 2023

AVAILABLE

February 5, 2023 – April 2, 2023

AVAILABLE

April 23, 2023 – June 18, 2023

AVAILABLE

July 9, 2023 – September 3, 2023

AVAILABLE

September 24, 2023 – November 19, 2023

AVAILABLE

December 24, 2023 – April 21, 2024 (17 weeks)

May 12, 2024 – July 7, 2024

AVAILABLE

July 28, 2024 – September 22, 2024

AVAILABLE

October 13, 2024 – December 8, 2024

AVAILABLE

December 29, 2024 – February 23, 2025

AVAILABLE

March 16, 2025 – May 11, 2025

AVAILABLE

June 1, 2025 – July 27, 2025

AVAILABLE

August 17, 2025 – October 12, 2025

AVAILABLE

November 2, 2025 – December 28, 2025

AVAILABLE
This show may travel beyond 2025! Contact us to discuss booking dates for 2026+.