Encourage political engagement and demystify voting terms and processes through this non-partisan, bilingual exhibit, available as both a physical traveling exhibit and printable poster exhibit.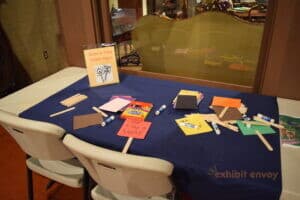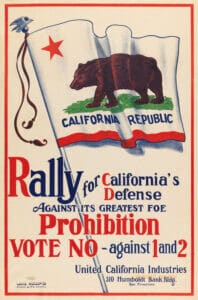 Despite California's influence on our nation's politics, voter turnout in California falls below the national average. While the political focus is usually at the federal and state levels, local political issues have a greater impact on our everyday lives. In both English and Spanish, California Votes: Exercise Your Right! breaks down the importance of voting, demystifies referendums and ballot measures, highlights political ephemera in your collection, and encourages your visitors to make their voices heard on the local, state, and national levels.
Topics covered include:
The mechanics of voting in California
Political basics, including political parties and types of ballot measures
African American and women's suffrage
California Votes: Exercise Your Right! originated at the San Joaquin County Historical Society and Museum as San Joaquin Votes: Exercise Your Right!
Specs
Audience:

General

Rental Fee:

Physical Traveling Exhibit: $1,000 + shipping/8 weeks
Printable Posters Only: $250 for 9 print-ready, bilingual text panels

Size:

Physical Traveling Exhibit: ~85 linear ft.
Printable Posters Only: ~30 linear ft.

Languages:

English, Spanish

Security:
Traveling Exhibit Components:
9 large didactic text panels in English and Spanish
Maps of California congressional, state assembly, and state senate districts
Reproductions of historic, statewide ephemera (photographs, flyers, census pages, etc.)
Small 3D artifacts, including campaign buttons and cards
Suggestions of voting-related and political 2D and 3D artifacts to augment the exhibit
Suggestions for budget-friendly interactives/hands-on activities within the gallery
Press kit, programming suggestions, and topical resource listings
Schedule and Availability
| | |
| --- | --- |
| Physical Exhibit Schedule (printable posters always available!): | |
| July 5, 2020 – August 30, 2020 | Available |
| September 13, 2020 – November 8, 2020 | Available |
| November 22, 2020 – January 17, 2021 | Available |
| January 31, 2021 – March 28, 2021 | Available |
| April 11, 2021 – June 6, 2021 | Available |
| June 20, 2021 – August 15, 2021 | Available |
| August 29, 2021 – October 24, 2021 | Available |
| November 7, 2021 – January 2, 2022 | Available |
| January 16, 2022 – March 13, 2022 | Available |
| March 27, 2022 – May 22, 2022 | Available |
| June 5, 2022 – July 31, 2022 | Available |
| August 14, 2022 – October 9, 2022 | Available |
| October 23, 2022 – December 18, 2022 | Available |
| Contact us to discuss dates in 2023 and beyond! | Contact us here. |
| | |