Description
Available only as an online exhibition! Learn more about hosting virtual exhibitions here.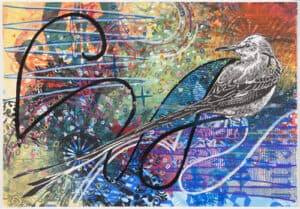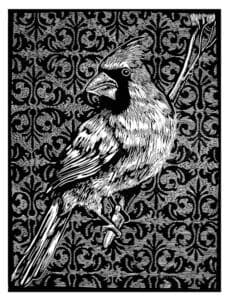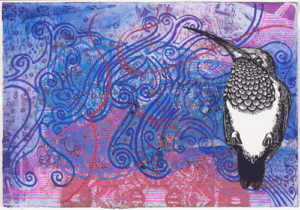 In online-only solo exhibition Feathered Relations: Works by Marwin Begaye, artist Marwin Begaye creates a conceptual homage to birds through stunning prints, wood blocks, and multi-media works. For the artist, birds reflect our relationships, linking us back to nature, to culture, and to one another.
"I honor the birds by giving them halos, and the marks often associated with sacredness, because in our beliefs, the birds have powers for healing and for ceremony." – Marwin Begaye
Marwin Begaye (Diné) is an internationally-exhibited printmaker and painter, and nationally-recognized graphic designer. As Associate Professor of Painting and Printmaking at the University of Oklahoma's School of Visual Arts, his research has been concentrated on issues of cultural identity, especially the intersection of traditional American Indian culture and pop culture.
This exhibition is presented through a partnership with the C.N. Gorman Museum at UC Davis, where it originated.
Specs
Audience:

General

Rental Fee:

$500 for 6 weeks (online only!)

Size:

Virtual exhibition

Languages:

English
Exhibit Components:
Online exhibit featuring 30+ prints by Marwin Begaye
Artist's statement and curator's statement
"For the Winged Ones" essay by Miranda Belarde-Lewis (Zuni/Tlingit)
Social media templates and PR kit
Schedule and Availability
This virtual exhibition is available for your institution to host any time! Contact us to learn more.