Description
The Road I Call Home documents the stories of 32 homeless people – men, women, children, and the elderly – to build empathy and compassion for our unhoused neighbors.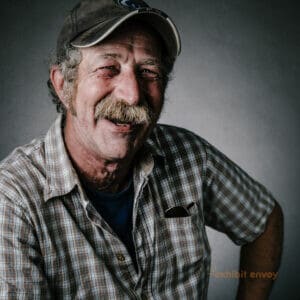 The Road I Call Home features photographic portraits and stories of the homeless from the lens of multi-award winning photographer and humanitarian Randy Bacon. Through simple, direct, and casual studio portraits, the beauty, dignity, and identity of each person is revealed. Accompanying each portrait is a heartfelt narrative from each person, sharing their diverse personal stories and lived experiences. Some stories are emotional; some are uplifting; and some are heartbreaking. All inspire empathy for our neighbors, housed or not.
These lives and stories are powerfully presented, giving voice to the voiceless. The project is firmly rooted in the compassion and belief that we can approach homelessness by choosing to see each person in front of us – rather than the issues that can overwhelm us.
Randy Bacon is a contemporary photographer with extensive history in portrait and documentary photography, as well as humanitarian work. Randy is the founder and creative behind the nonprofit people-empowering movement 7 Billion Ones, and has received numerous photography awards. In addition, Randy is an accomplished award-winning filmmaker.
This exhibit is also available as an online exhibit! Book the online exhibit as a stand-alone experience, or pair it with the physical exhibit when you host. Visit our online exhibits page to learn more.
Specs
Audience:

General

Rental Fee:

New, reduced fee! $2,000 + shipping for an 8-week booking

Size:

Up to 1,400 sq. ft.
(Install as many or as few works as can fit your gallery space)

Languages:

English

Security:

Installation Images:
Exhibit Components:
32 framed 32″x32″ photographic portraits
Accompanying narrative text panels with each subject's personal story, told in their own words
29-minute film documenting individual stories of homelessness
Press kit, programming suggestions, and topical resource listings
Schedule and Availability
November 7, 2021 – January 2, 2022

Preparation for Travel

January 16, 2022 – March 13, 2022

February 5, 2023 – April 2, 2023

AVAILABLE

April 23, 2023 – June 18, 2023

AVAILABLE

July 9, 2023 – September 3, 2023

AVAILABLE

September 24, 2023 – November 19, 2023

AVAILABLE

December 10, 2023 – February 4, 2024

AVAILABLE

February 25, 2024 – April 21, 2024

AVAILABLE

May 12, 2024 – July 7, 2024

AVAILABLE

July 28, 2024 – September 22, 2024

AVAILABLE

October 13, 2024 – December 8, 2024

AVAILABLE
This show will travel beyond 2024! Contact us to discuss booking dates for 2025+.