Description
For the first time, a photographer is entering Yosemite as the WPA documentary photographers of the 1930s might, with a shifted priority on people rather than on nature.

Carol McCusker, Curator of Photography, The Harn Museum of Art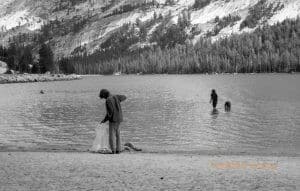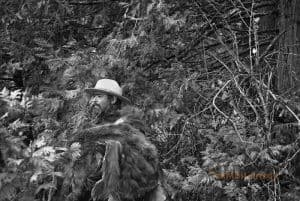 At Yosemite National Park, more than five million annual visitors are supported by thousands of local rangers, workers, and volunteers. Through Yosemite People, a new traveling exhibit, the complex and nuanced relationships between people and Yosemite's natural wonders come to life. Photographs from award-winning artist Jonas Kulikauskas – who brings his street photography sensibilities to the wilderness – reveal crowds clamoring to take the perfect selfie with Half Dome in the background and families cooling off in Tenaya Creek, while servers prep for diners at the Ahwahnee Hotel and rangers patrol the expansive Park. Traditions and history, too, are preserved through these images; Kulikauskas captures master basket weaver Julia Parker before her retirement, as well as Yosemite Valley Stables (where horseback riding tours are no longer allowed). Augmenting these images are text panels with oral histories from visitors to and workers in Yosemite, as well as historic images from Eadweard Muybridge, Ansel Adams, and Carleton Watkins to provide context for photography of the Park.
All together, the exhibit illustrates the ways in which people interact with natural resources and wilderness – even one as "pristine" as Yosemite National Park. Through this exhibit, your visitors will contemplate two essential questions: How can five million annual visitors experience Yosemite – and, by extension, our natural world – without harming it? How do our experiences with nature impact the way we understand ourselves?
Jonas Kulikauskas is an award-winning artist, photographer, and author, who has exhibited nationally and internationally, including a solo museum show at the National Čiurlionis Gallery of Art, Lithuania, in 2012. Since 2002, Kulikauskas has been a faculty member at ArtCenter College of Design, where he received the Samsung Faculty Enrichment Grant for Yosemite People. Learn more about the project here, and read a review of the book here.
The exhibition's themes include:
Environmental Impact
Preserving Legacy, Cultures, and Traditions
Leisure in the Park
Working and Living in Yosemite
Photography and its Impact on National Parks
This exhibit is also available as an online exhibit! Book the online exhibit as a stand-alone experience, or pair it with the physical exhibit when you host. Visit our online exhibits page to learn more.
Yosemite People is a traveling exhibition from Exhibit Envoy and photographer Jonas Kulikauskas.
Specs
Audience:

General

Rental Fee:

$2,500 + shipping for an 8-week booking

Size:

1,000 sq. ft.

Security:

Installation Images:
Exhibit Components:
42 framed photographs, largely measuring 28″W x 22″H
4 framed replicas of historic photographs of Yosemite by Muybridge, Adams, Watkins, and others
Interpretive text panels, including an introduction, first-person stories from Yosemite rangers, and historic context for Yosemite photography
Hands-on objects related to rangers' and visitors' stories to inspire conversation
Gallery hardcover copy of Yosemite People, released in August 2017
Digital image files for large-scale projection
Exhibition press kit with digital images
Resources and programming suggestions
Schedule and Availability
June 14, 2020 – July 31, 2021

August 29, 2021 – October 24, 2021

AVAILABLE

November 7, 2021 – January 2, 2022

AVAILABLE

January 16, 2022 – March 13, 2022

AVAILABLE

March 27, 2022 – May 22, 2022

AVAILABLE

June 5, 2022 – July 31, 2022

AVAILABLE

August 14, 2022 – October 16, 2022

November 13, 2022 – January 8, 2023

AVAILABLE

January 22, 2023 – March 19, 2023

AVAILABLE

April 2, 2023 – May 28, 2023

AVAILABLE

June 11, 2023 – August 6, 2023

AVAILABLE

August 20, 2023 – October 15, 2023

AVAILABLE

October 29, 2023 – December 25, 2023

AVAILABLE

January 14, 2024 – March 3, 2024 (7 weeks)

AVAILABLE

March 17, 2024 – May 12, 2024

AVAILABLE

June 2, 2024 – July 28, 2024

August 11, 2024 – October 6, 2024

AVAILABLE

October 20, 2024 – December 15, 2024

AVAILABLE
This show will travel beyond 2024! Contact us to discuss booking dates for 2025+.